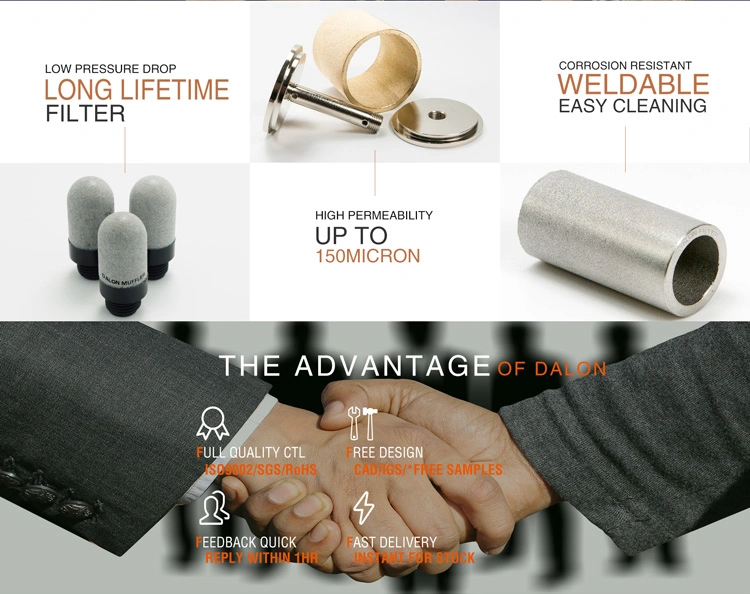 DALON manufacturer of porous sintered filters since 2002, offers a variety of solutions to meet our customer requirements.
Our sintered filter elements are applied in sparging, sensor protection, gas and liquid filtration, dampening, bulk handling and etc.
which for solution of corrosive and high temperature environments.
DALON filter made of stainless steels, bronze, plastic, which can be manufactured up to 1,000 mm length and 250 mm O.D.
Larger elements also can be assembled by welding procedure. DALON sintered filters have an excellent back flush performance.
The filter grades down to 0.5
m
icron and up to range of 250micron.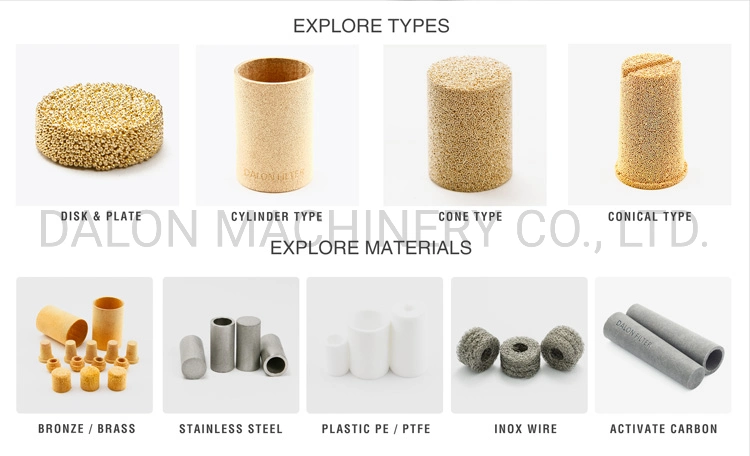 Standard Geometries of DALON sintered filters

DALON FILTER Discs and Plugs


• Ø d 1 mm to Ø d 250 mm




• up to h 100 mm

DALON FILTER Rings and Hollow cylinder


• Ø d 4 mm to Ø d 250 mm




• up to h 1000 mm




and according to diameter, either seamless or welded from sections

DALON FILTER Plates


• length up to 1000 mm




• width up to 250 mm




• height up to 50 mm




• larger dimensions welded from sections

DALON FILTER conical with or without flange


• Ø d 4 mm to Ø d 100 mm




• h 8 mm to h 250 mm

DALON FILTER conical


• Ø d 4 mm to Ø d 100 mm




• h 5 mm to h 250 mm

DALON FILTER Cones with flange


• Ø d 2 mm to Ø d 200 mm




• h 2 mm to h 250 mm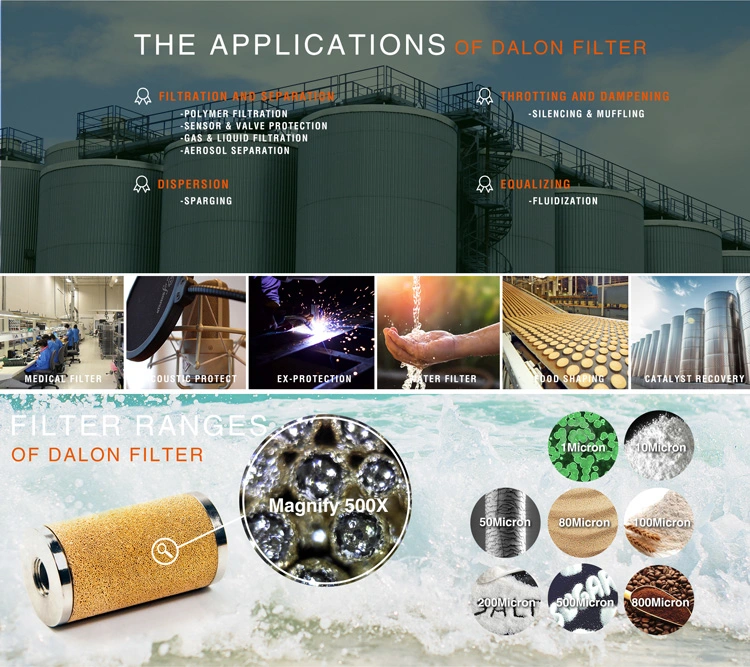 DALON sintered filters Application Examples:
•
Filtration of fluids: Porosity is able to retain the solid particles contained in a liquid or gaseous fluid, and also to separate liquid and solid phases. The DALON sintered filters application sectors are: automotive, marine, aeronautical, rail, industrial machinery, household appliances, heating, water depuration, food industry, chemical and nuclear industry, packaging manufacturing, tobacco pipes and electronic cigarettes, etc.
•
Pressure drop: DALON sintered filters Porosity decreases the pressure of the fluid that circulates through it. Different applications are: pressure control in pneumatic and hydraulic circuits (compensators, drainers, regulators), noise absorption of gas piping (Silencers), pneumatic cylinders, sensors and manometers protection, gearboxes, etc.
•
Flow control: The DALON sintered filters isotropic and homogeneous porosity allows that a fluid that circulates through it have a constant flow at the exit of the porous part. Typical applications are heat exchangers, medical gases, scuba diving, industrial gases, etc.
•
Aeration: The DALON sintered filters air circulation through porosity results in a constant and controlled air flow at the exit of the porous component. The use sectors are: liquids re-passing in food industry (liqueurs, wines, and gas beverages), ionization, gas burners, aquaria, clinical analysis, etc.
•
Fluidization: The DALON sintered filters air circulation through the porous component has as result that the exit flow is distributed with the same pressure in all points, allowing then the controlled handling of powdered products. This property is used for: transporting cement, flour, alumina, ashes, toner powder, etc.
•
Anti-moisture: DALON sintered filters Porosity is able to retain and condense the moisture contained in a gas that circles through it. Typical applications are: drying in general, electronic equipment's protection, etc.
•
Flame protection:DALON sintered filters Presence of a porous component before a flame avoids accidents in case of flame return. Typical applications are: gas burners, heaters, welding facilities, etc.
Properties of DALON filter elements

Filter Grade

Porosity

Permeability Coefficients

Pore size distribution

Shear strength

[micron]

[%]

[10

-12

m

2

]

[10

-7

m]

[d

min

] um

MFP um

[d

max

] um

[N/mm

2

]

8

29

2

52

8

11

21

130

12

32

6

64

11

15

37

120

20

38

10

83

18

26

57

110

30

36

14

89

21

31

61

100

45

37

43

144

30

47

101

90

60

41

50

202

31

53

147

90

80

42

114

282

37

72

175

80

100

42

127

406

48

98

220

70

120

40

230

633

65

125

280

60

150

44

248

643

68

140

305

40

200

48

463

1046

105

195

500

30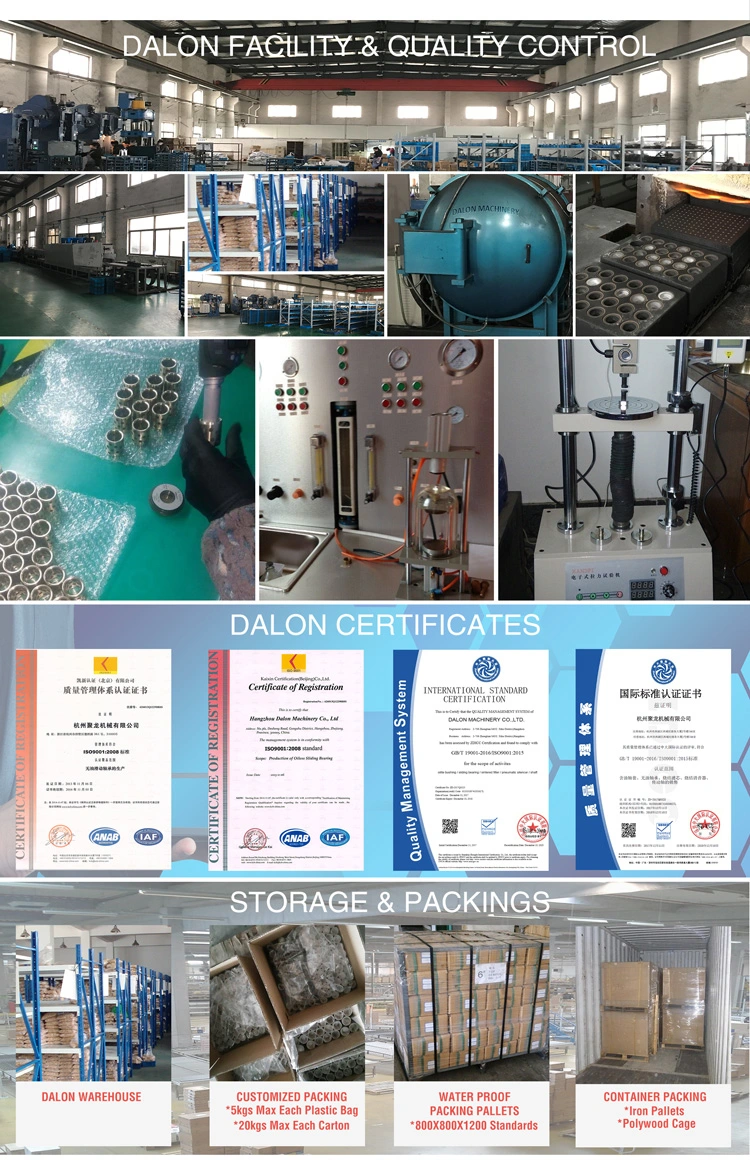 D
ALON Filters FAQ:
Q: Factory or Trading Company?
A:
DALON established in 2002 and have two factories under DALON group with shareholders, one workshop specialized in sintered bronze bushing and another handles all sintered filter and silencers.
Q:
What is MOQ?
A:
We are enjoying to grow up together with all of our clients whatever big or small orders. You will become bigger and bigger to be with DALON.
Q:
Can DALON make customized products?
A:
Yes, DALON can offer OEM / ODM manufacturing
Q: Will drawing or sample design safe after DALON get it?
A:
DALON will NOT release your design to any third parties without your permission. Usually we will sign NDA before all drawing and samples.
Q: Can DALON offer design services?
A
:
DALON have R&D and can offer special design about your requirements with drawing 3D in format IGES/STEP, PDF/ CAD in DGW/DXF & photos.
Q
: How about Quality System?
A
:
DALON have ISO9002 quality system and in-house inspection by Bubble Test Equipment, CMM, Hardness Tester, Roughness Tester, Salt Spray Tester, Tensile Strength Test, Caliper, Micrometer, Height Gauge, Ring and Plug Gauge, Pin Gauge, etc.
Q:
A
bout Sample?
A:
D
ALON can supply the samples for FREE, but the customers have to support the tooling cost if have and the courier cost
Q: Tooling Charge?
A:
T
ooling charge is one off when first order, all future orders would not charge again even tooling repair or under maintains.
Q:
L
ead Time?
A:
D
ALON usually effect delivery within 21days after advance payment. Stock items could be delivered within 3days. If item need open tooling, consider extra 7days.
Q: Payment Terms?
A:
A
dvance 50% and balance against copy of shipping B/L. For long term business DALON have more advantage terms for payment.
Q
: How to deal with the complains if happens?
A:
In any case of complains, please contact DALON within 30days after receive the goods, DALON will find the root causes and corrective & preventive actions. DALON will take full responsibility for the claims.