HP 45 Magenta Ink Cartridges
HP 45 Cyan Ink Cartridges
Hp51645a HP45 Ink Cartridges
Black Hp 45 ink cartridges
Magenta Hp 45 ink cartridges
Yellow Hp 45 ink cartridges
Cyan Hp 45 ink cartridgfes
Garment CAD Plotter Hp 45 ink cartridges.

Compatible list:
Hp Deskjet 920C
Hp Deskjet 930C
Hp Deskjet 948C
Hp Deskjet 950C
Hp Deskjet 955C
Hp Deskjet 960C
Hp Deskjet 990CXI
Hp Deskjet 1180C
Hp Deskjet 1220C
Hp Deskjet 1220C PS
Hp Deskjet 1280
Hp Deskjet 3820
Hp Deskjet 6122
Hp Deskjet 9300
Hp Deskjet PSC750
Hp Deskjet PSC950
Ink Cartridges Model
HP 45 ink cartridges
Products Code
HP45 black ink cartridges, hp45 magenta ink cartridges
hp45 yellow ink cartridges, hp45 cyan ink cartridges
can be produced.
Suitable Printers
HP Deskjet 930c/950c/960c/970cxi/990cxi 1180c/1220
Other Hp cad plotters, Garment cad plotters, etc
Ink Cartridges Colors
Cyan, Magenta,Yellow,Black
The original hp 45 ink cartridges are black.
We can make it with magenta, yellow, and cyan inks.
Ink Capacity
Magenta 50ml; Cyan: 50ml;
as per A4 5% coverage, more than 1200p printing.
Print Pages
Magenta, Cyan
Refillability
Non-refill, one-time use
MOQ
100pieces each color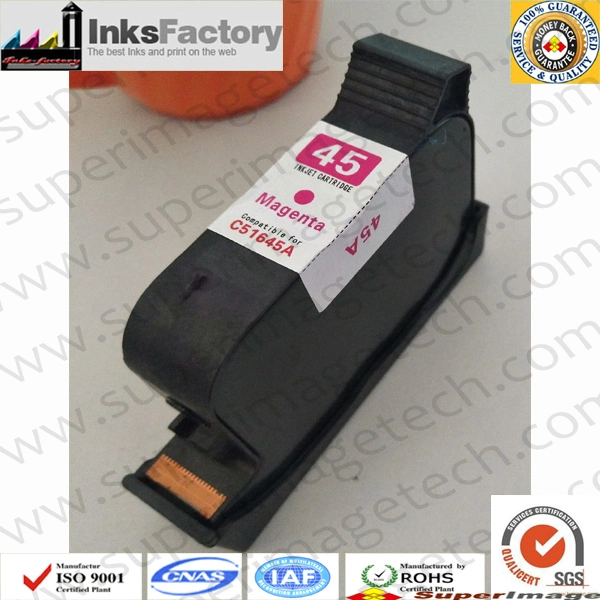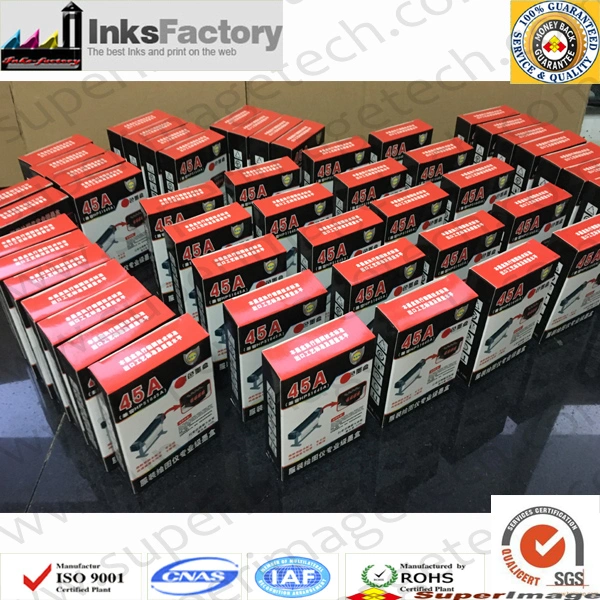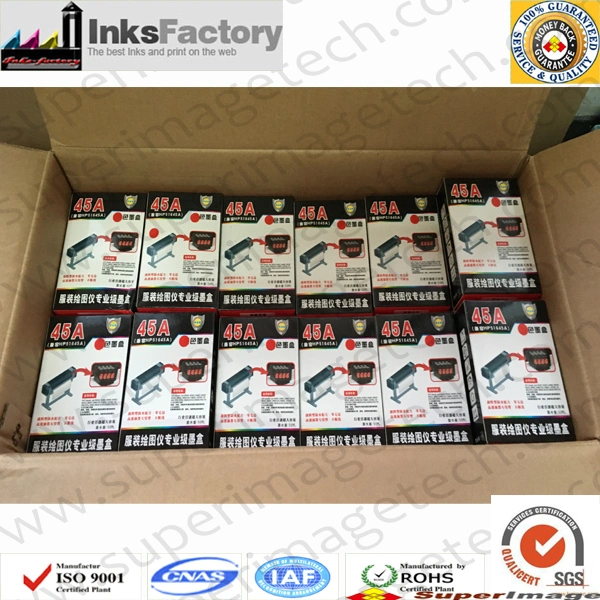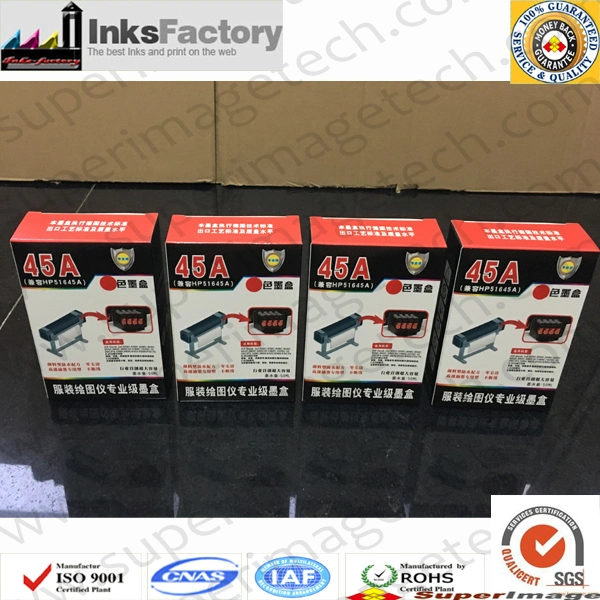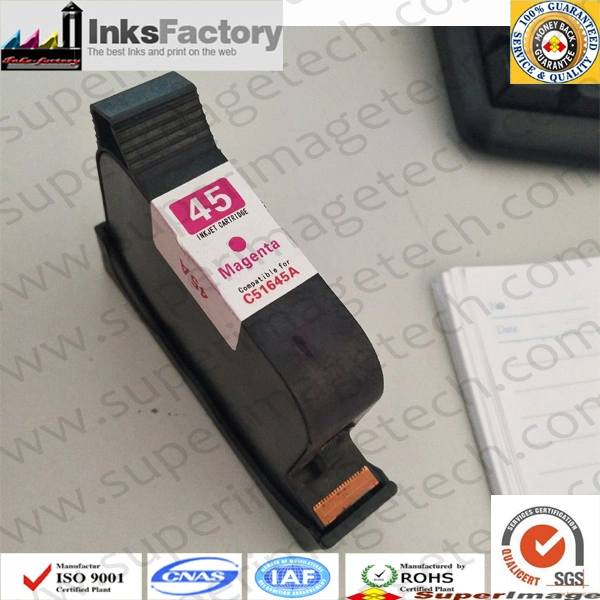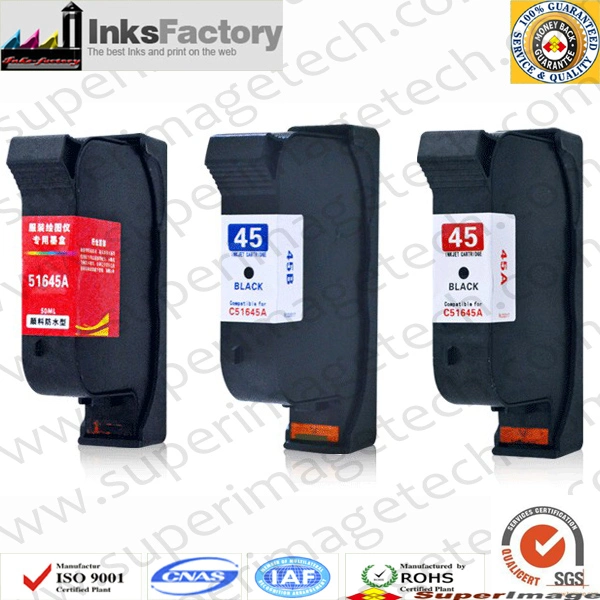 Package: 1pieces/box, 100boxes/carton. Minimum order: 100piece each color
Main Colors:Cyan, Magenta
Applicable Print Media: Mainly Printing paper, Photo Paper, PP Paper, and Copy paper, A4 paper, office paper, etc.
Certifications & Standards: Original manufacturer standard/Hp product stsandards.
Main Points:
the latest chips version, comply with USA, European, Latin America, Asia, Australia, Russia,etc.
1). Good fluency and print quality;
2). Excellent color saturation;
3). Precision filtration warrants clogging-free operation.
4). Several color matching sets producing accurate colors and wide gamut.
5). Faster drying giving improved productivity.
6). Safe dye materials and additives for a better environment.
7). More light smell, mostly no odor.
8). Main dye and pigment material brand: CIBA
9). High stability and No Color distortion.
10). Excellent outdoor warranty, low annual fading rate.
11). Consistent quality & reputation.
12). High quality sealing and filling, never leakage.
13). Plug & Play, Easy & Convenient.
14). Solid, safety and Sealed.
15). Consistent quality & reputation.
16). High performance-price rate.
Quality Warranty:
SuperImage affords full quality warranty for our hp inks cartridges products.
For any inferior quality products or loss caused by inferior quality inks cartridges, SuperImage will be responsible for products-changing, returning and replacements delivery, as well as related compensation.