Product Function Stainless Steel Mixing Tank:
Operating principle: Break down or recombined the materials through mixing, heating and cooling, to promote mixing uniformly and quickly.
Components: Body, gears, mixing devices, heating devices, cooling devices, seal, etc.
Auxiliary Equipment: high speed homogenizer, high speed disperser etc..
Widely used in: cosmetics, cosmetic, pharmaceutical, food, paint and other chemical production.
Applicable Field: All the liquid-liquid, liquid-powder mixing industry.
Shampoo Food Toothpaste Lotion Cream Cosmetic Vacuum Emulsifier Mixer HomogenizerShampoo Food Toothpaste Lotion Cream Cosmetic Vacuum Emulsifier Mixer Homogenizer
opening mixing tank storage tank half opening tank stainless steel tankopening mixing tank storage tank half opening tank stainless steel tankopening mixing tank storage tank half opening tank stainless steel tankopening mixing tank storage tank half opening tank stainless steel tank
vacuum emulsifying machinevacuum emulsifying machinevacuum emulsifying machine
stainless steel vacuum mixing tankstainless steel vacuum mixing tankstainless steel vacuum mixing tankstainless steel vacuum mixing tank
Our company is an enterprise specialized in designing and manufacturing reaction kettles,
we can design and manufacture various types of mixing tank for users.
shampoo/lotion making machine shampoo/lotion making machine shampoo/lotion making machine shampoo/lotion making machine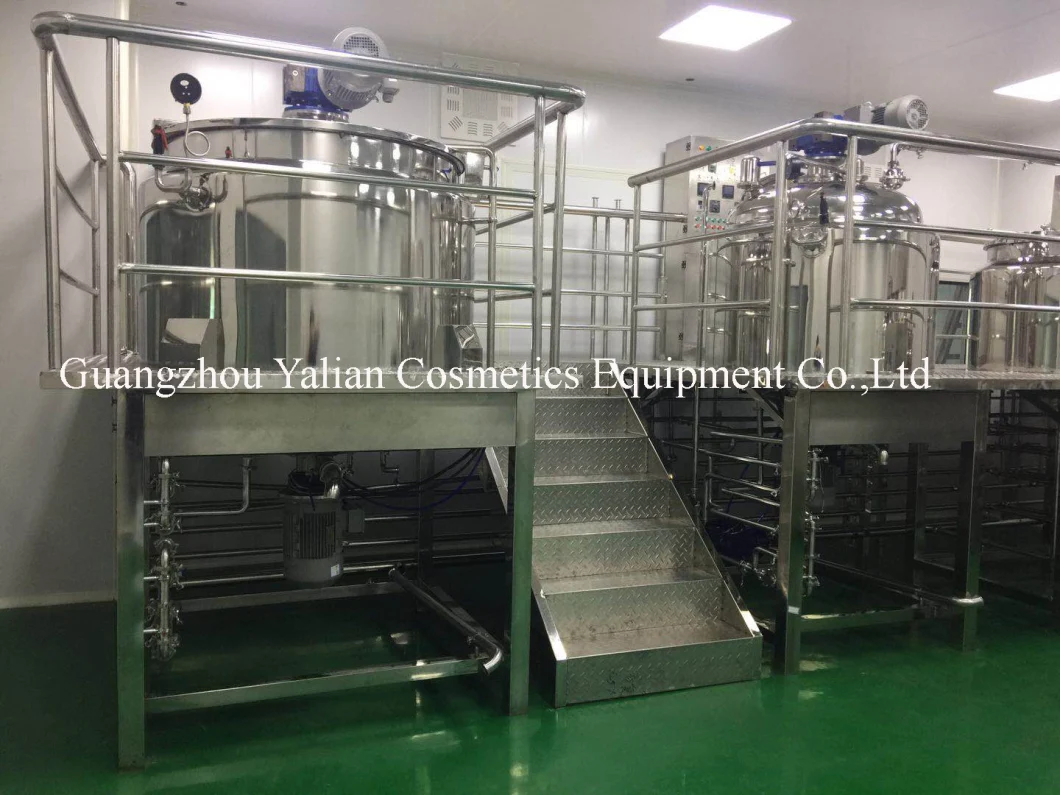 Main parameters and configuration
1) nominal volume:50L-20000L and other general specifications and non-standard design and production.
2) the structure of the form: vertical, the use of conical, oval, dish shaped head, also apply to the need to close the heating, mixing, reaction, enzymatic hydrolysis and other process operation.
3) jacket forms: hollow heat conducting oil or water), semicircular coil pipe, honeycomb jacket (on demand system), heating or cooling efficiency is high.
4) insulation material: filling pearl cotton, rock wool, polyurethane foam, with good thermal insulation effect.
5) exterior surface of the cylinder body: use mirror polishing or 2B color matte or 2B matte surface polishing treatment, beautiful and clean appearance.
6) stirring device: at the top of the tank in the (partial) heart stirring, stirring side; agitator types: frame type, anchor type, push type, blade, scraping wall blade etc.
7) stirring speed: Low speed stirrer, high speed disperser or high speed homognizer.
8) level meter form: glass tube liquid level gauge, static pressure sensing type liquid level meter and so on (for selection).
9) feet form: adjustable three pyramid form or cylindrical tube.
10) equipment accessories configuration: quick open sanitary manhole, mirror, (liquid crystal digital display type or dial pointer type) thermometer, respirators, CIP cleaning machines, material liquid inlet and outlet, circular mouth, hot and cold media import and export interface, the nozzle can be according to the process of selection may increase or decrease).
11) tank equipment material: SUS304 or SUS316L SUS304 or Q235-B; jacket; cover cylinder for SUS304.\
| | |
| --- | --- |
| Composition | Instructions |
| Specification (L) | 50-50000 |
| Design Pressure (Mpa) | Atmospheric Pressure or under pressure |
| Material | Carbon steel, stainless steel, enamel, graphite |
| Heating Forms | Electrical heating with medium in jacket, external half coil steam heating, external half conduction oil heating, hot water infrared heating etc. |
| Cooling Forms | Refrigeration medium in the internal pipe jacket |
| Blending Power | Model selection is made according to material viscosity, liquid-solid ratio, liquid specific gravity, solid specific gravity, solid granularity, rotation speed, paddle type, with or without baffle or internal coil. |
| Stirring blade Forms | Anchor type, frame type, flat paddle type, pitched paddle type, ribbon type, turbo type, pusher type and multiple compound type |
| Seal | Mechanical seal or stuff packing seal |
| Inner Surface Treatment | Polished or no polished |
| Discharge Valve | Flanged ball valve, open downward discharge valve and others |
| Technological Pipe Hole | Manhole, sight glass, distillation mouth, imported materials, pressure gauge port, temperature, mouth, mouth filling N2, |
| Platform | Custom-made of standard-made |
| Pipeline and valves | Custom-made according to actual production site |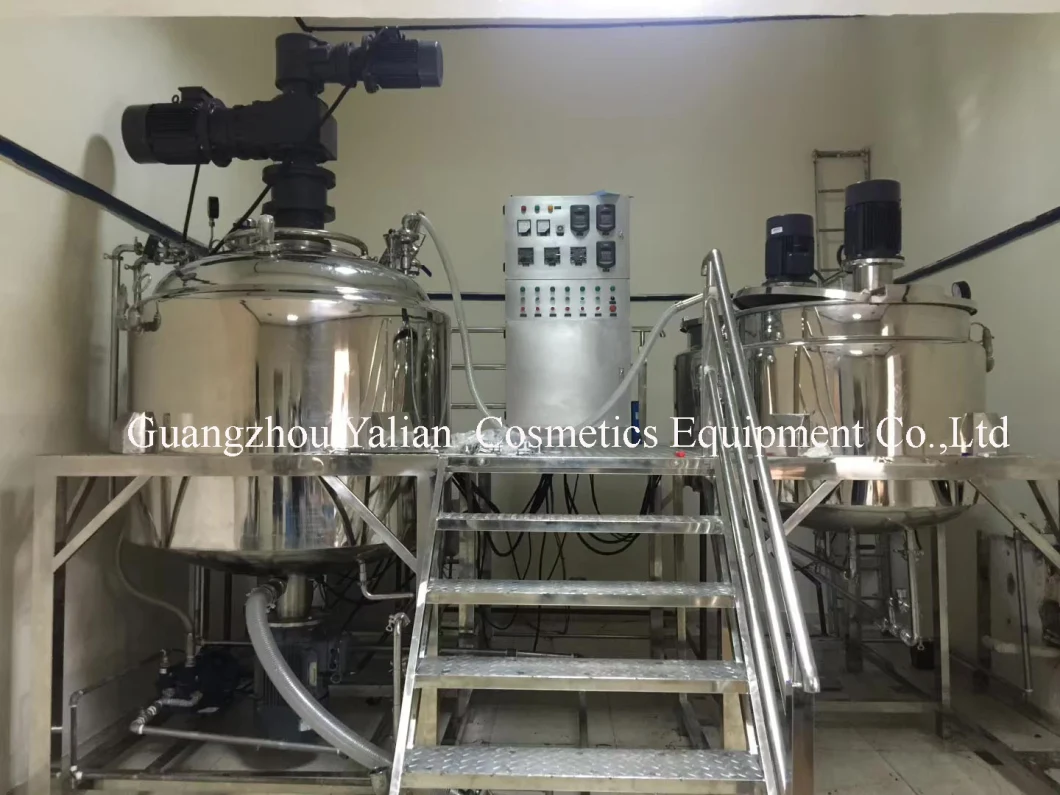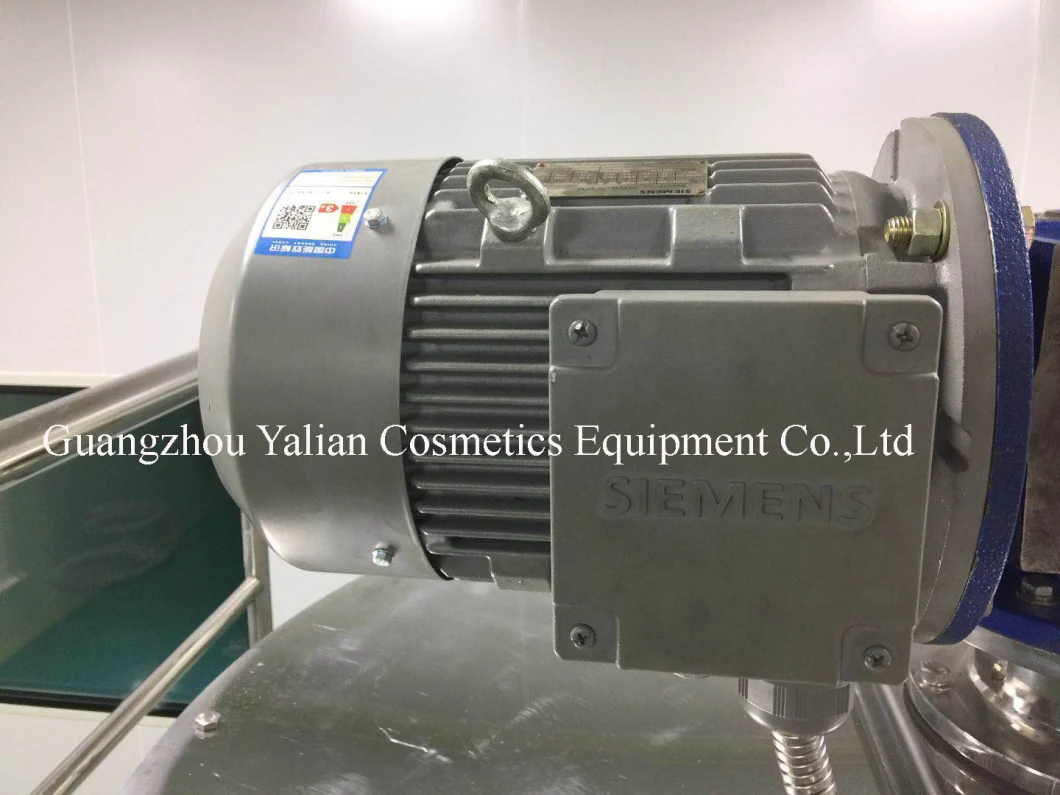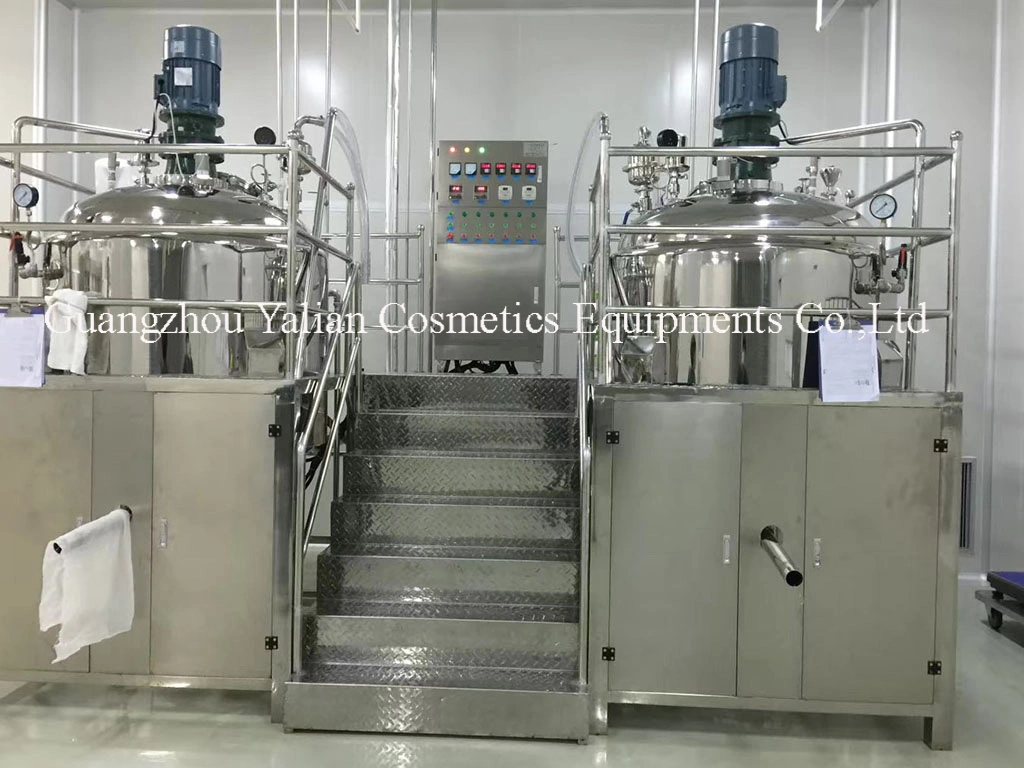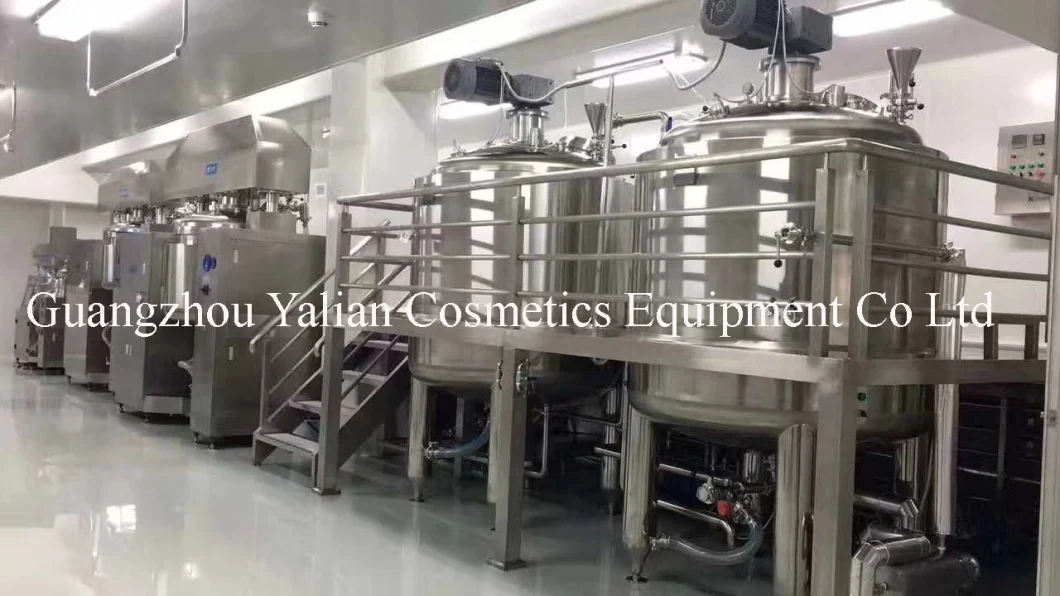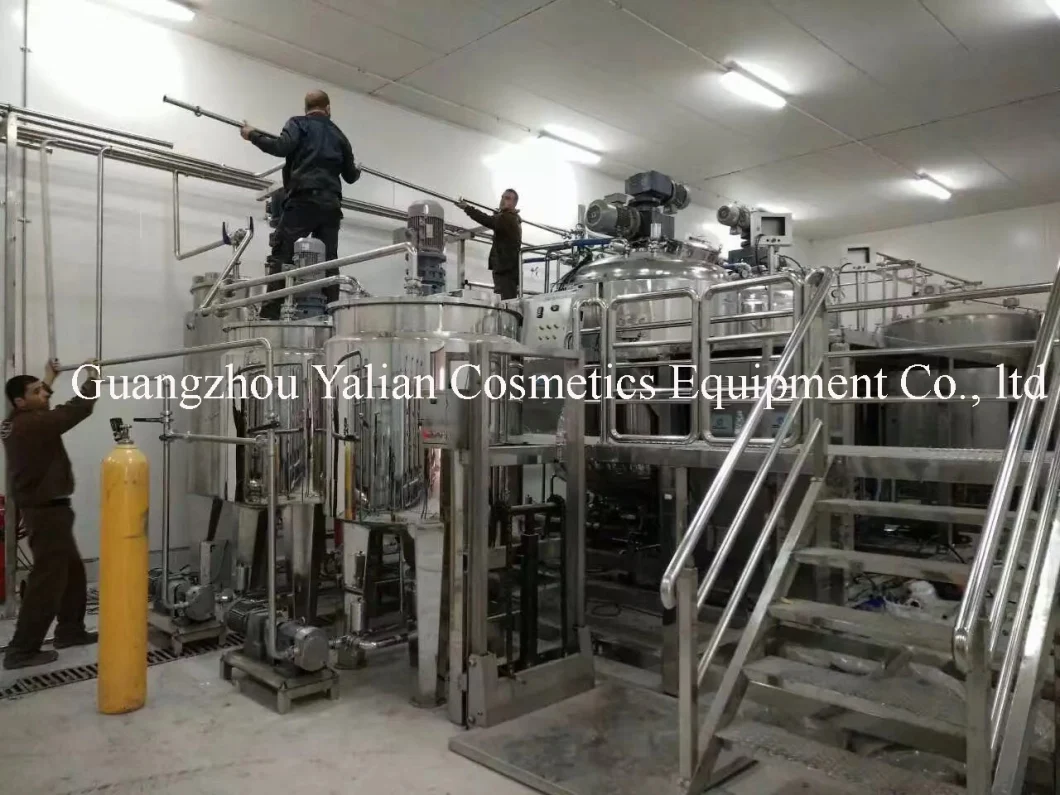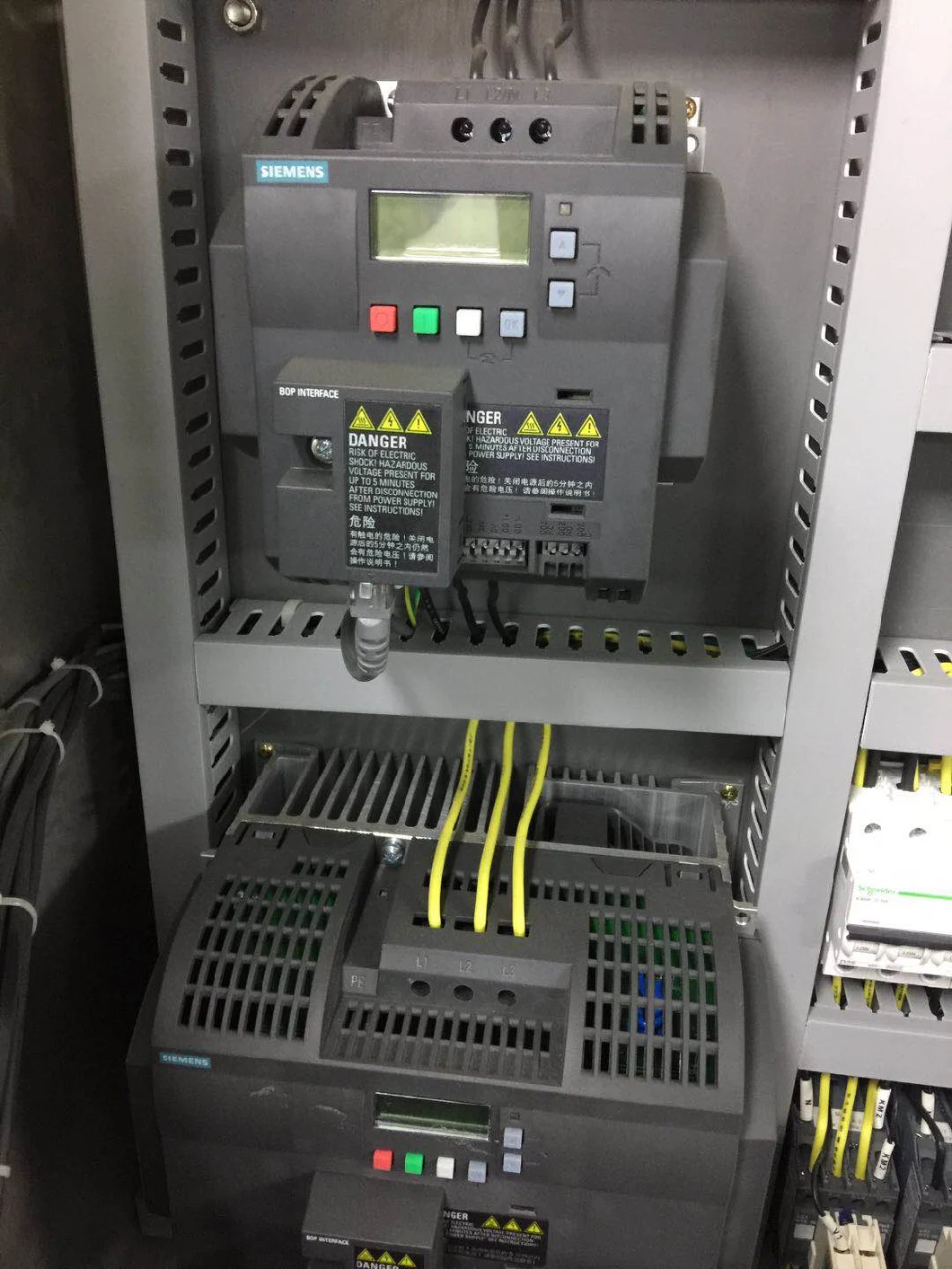 1. Stainless steel mixing tank for cosmetic:
The cosmetic stainless steel mixing tank has High speed homogenizer might mixing and disolve viscously, solid and liquid etc. various kind of raw material will be dissolve which is such as AES, AESA LSA, during liquid production which can save energy consumption and shorten production and shorten production period.
1. Main adopts stepless timing device which reduce babble occur under low temperature and high viscosity condition less air bubble will be formed.
2. To produce cosmetic cream, color cream and liquid washing products, like lotion, shampoo, liquid soap, bath shower, dish washing, hand washing, lubricating oil, etc.
3. Finished products can be discharged by valve or match a screw pump.
4. We can collocate the production line flexiblely according to customer's production scale and technology, such as to add pretreatment boiler, cooling tank and conveying pump etc, this greatly helps to improve the production efficiency and save energy.

Stainless Steel Mixing Tank for Cosmetic, Food and Pharmaceutical Industries Stainless Steel Mixing Tank for Cosmetic, Food and Pharmaceutical Industries Stainless Steel Mixing Tank for Cosmetic, Food and Pharmaceutical Industries
Technical Parameter
Specifications

Working

volume(L)

the actual volume(L)

Cover power Mpa(for steam)

Figure measure

L×W×H(mm)

Mixing power(KW)

100

100

125

≤0.3Mpa

1700× 1200× 1850

2.2

200

200

265

≤0.3Mpa

1800× 1350× 2000

2.2

300

300

400

≤0.3Mpa

2000× 1400× 2100

3

500

500

625

≤0.3Mpa

2200× 1400× 2500

3

1000

1000

1250

≤0.3Mpa

2500× 1700× 2500

4

1500

1500

1750

≤0.3Mpa

2500× 1850× 2500

5.5

2000

2000

2600

≤0.3Mpa

2750× 1910× 3100

5.5

3000

3000

3600

≤0.3Mpa

3000× 2100× 3500

7.5

4000

4000

4800

≤0.3Mpa

3000× 2300× 3600

8.5

5000

5000

5800

≤0.3Mpa

3200× 2400× 3950

11
Note: In case of inconformity of the data in the table due to technical improvement or customization, the real object shall prevail.

2. Pharmaceutical Liquid Mixing Tank
Features
Feature: the equipments are designed and manufactured fully according to the demand of GMP and to standards, such as (steel pressure vessels) (GB150-2011), and (steel welded atmospheric pressure vessels) (JB/T4735-1997), etc.
Application
It is applied to liquid preparation and various water treatment process in purgative area,such as infusion solution ,injection solution, eye drop, oral liquid and blood preparation.
Description of Pharmaceutical Liquid Mixing Tank
Product technical description
Specification:30L~50000L
Material: SS316L or SS304
Surface finish: inside surface is Ra0.28~0.4μm by mechanical polish. (passivation or electropolish are optional). Outside surface is Ra0.6~0.8μm by satin finish.
Agitator: Top mechanical agitator (propeller, spiral and anchor or others)
Pressure: ATM or pressure vessel (-0.1~1Mpa)
Structure: Single layer vessel, vessel with jacket, vessel with jacket and insulation
Jacket type: dimple jacket, full jacket, or coil jacket
Insulation material: rock wool
Components: vent filter, temp. gauge, level gauge, manhole, sight glass with lamp and cleaning ball or according to client's detail requirement.
Manufacture standard for pressure vessel: ASME, PED 97/23/EC, GB150-2011
Working volume

Inner

diameter

Outer

diameter

Vessel

height

Total volume

30L

400mm

500mm

400mm

44L

50L

400mm

500mm

600mm

69L

100L

500mm

600mm

650mm

130L

200L

600mm

700mm

1000mm

250L

300L

700mm

800mm

1250mm

370L

500L

900mm

1050mm

1150mm

650L

1000L

1100mm

1250mm

1480mm

1260L

1500L

1200mm

1350nmm

1700mm

1780L

2000L

1300mm

1500mm

1980mm

2200L

3000L

1500mm

1700mm

2150mm

3400L

4000L

1600mm

1750mm

2630mm

4000L

8000L

1900mm

2100mm

3200mm

8300L

The above dimension is only for reference, we can make up to 30000L , and we can make special dimension according to client specific requirement.
5. Packaging & Shipping
Packaging
1> Outer packing: plywood case
2> Inner packing: PE film wrapping overall
6.Our Services
-Engineers avaiable to service machinery overseas
- Technological support
- Guarantee: 1 year
6.1. Pre-sale service
Act as good adviser and assisant of clients enable them to get rich and generous returns on their investments.
a. Select equipment model
b. Design and manufacturer products according to client's special requirements.
c. Train technical persnonal for clients
6.2. Service during the sale
a. Pre-check and accept products adhead of delivers
b. Send photos of machines every week and send testing video
c. Help clients to draft solving plans
6.3. After-sales services
Provide considerate services to minimize client's worries
a. Assist client to prepare for the first project.
b. Install and debug the equipment
c. Train initiative to eliminate the trouble rapidly
d. Provide technical replacement
e. After-sales team will solve problems via operating and provide technical instruction
6.4. Warranty
The warranty is 1 year
Within 1 year after equipment sold, we will provide you with parts for the damaged parts(except the demages caused by wrong operation)free of charge
We will deliver t he necessary parts via express by air or sea free of charge wihthin 12 months.

*About us:
Guangzhou Yalian Machinery Co., Ltd. is a professional manufacturer of cosmetic,chemical, biological & pharmaceutical machinery and equipment more than 20 years .our technology innovative enterprise focusing on machinery design, manufacturing and system integration.
Product lines range from:
1> Cosmetic Machinery: water treatment ,vacuum emulsifying machine,liquid detergent mixing machine,storage tank,solid soap making machine,perfume making machine, color paste mill, filling machine etc.
2> Chemical Machinery: reactor, mixing equipment, separation equipment, storage tank, disperser, mill etc.
3> Biological and Pharmaceutical Machinery: vacuum ointment machine, fermentation tank, sanitary stainless reactor,alcohol deposition can, collocation tank etc.